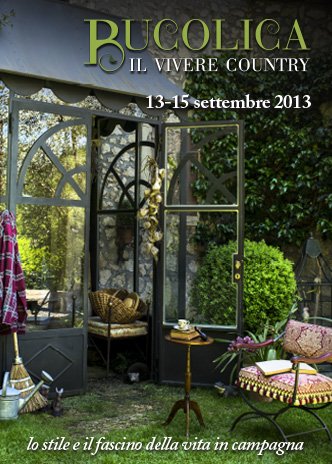 BUCOLICA
COUNTRY LIVING
FROM 13 TO 15 SEPTEMBER 2013 | FROM 10.00 TO 19.00
at Villa Castelbarco
is a new, captivating, refined exhibition project of a cultural and entertainment nature to bring the public closer to the philosophy, style and atmosphere of country life, in line with an exponentially growing trend: the return to nature, linked to leisure, but not only.
The fulcrum of the event will be a market exhibition, characterized by a careful selection of exhibitors, where past professions are flanked by new creative proposals to present the best the market offers in terms of services and products, the result of ancient craftsmanship.
From furniture to fancy goods, from clothing to sport, from home to garden, from stables to vegetable garden, from typical products to handicrafts, to recover the relationship with our roots and the taste of living according to the rhythms of nature, breathing the scents of the earth, tasting the flavors and enjoying the daily pleasures.
The event aims to recreate the complicity between man, nature and its elements, inviting visitors to approach the country world to rediscover its intrinsic elegance and subtle refinement through a series of quality events.
info http://www.bucolicacountry.com/
Villa Castelbarco Via Concesa 4 Vaprio d'Adda MI
Motorway A4, exit at Trezzo sull'Adda, follow signs for Vaprio d'Adda